O.C. Smith
An entertainer, a humanitarian, a religious scholar, and a leader of men.  While the terms seem disparate, all of these qualities describe the late Dr. O.C. Smith.  Born in 1932 as Ocie Lee Smith, Jr., in Mansfield, Louisiana, Smith moved with his parents to Little Rock, Arkansas, before their divorce saw his mother take him to Los Angeles, California.  It was here that O.C. would realize his musical gifts, and singing would play an integral role in his life.  His mother was a music instructor, and when attending Jefferson High School, Smith learned the craft from legendary teacher Samuel Brown.  To O.C., it was clear that his love was jazz, idolizing superstars like Dizzy Gillespie and Charlie Parker.
After completing a psychology degree at Southern University, Smith joined the Air Force.  He served throughout America, Europe and Asia, also touring as a singer in a special services band.  Discharged in 1955, he found himself in New York City, where his musical talents flourished.  He sang ballads and blues in small clubs, and he earned his first break with Sy Oliver, making an appearance on Arthur Godfrey's Talent Scouts.  His success on that show led to a recording contract with Cadence Records, and in December 1955, Smith's debut release was a cover of the Little Richard hit "Tutti Frutti".  MGM Records signed Smith to a solo contract, resulting in three more releases.
In 1961, superstar Count Basie recruited Smith to be his vocalist, a position he held until 1965.  Though O.C.'s recording "That's Life" met with fair success, even remade by Frank Sinatra years later, hits remained elusive.  By 1968, Smith's label, Columbia Records, was ready to release him, when he entered the charts for the first time with Dallas Frazier's story-song, "Son of Hickory Holler's Tramp", which reached number two in the UK Singles Chart and also broke the Top 40 in the United States.  In 1976, Kenny Rogers revived the hit as a country song.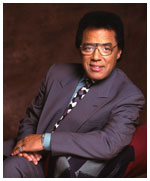 Smith worked clubs across the country, toured the Far East, and settled in Los Angeles, where he recorded the Bobby Russell song "Little Green Apples", which went to number two on the Billboard Hot 100 and won the 1969 Grammy Award for Song of the Year, even earning a gold record. O.C. continued to record, reaching the R&B, Adult Contemporary, and pop charts in the USA with the likes of "Daddy's Little Man", "Friend, Lover, Woman, Wife", "Me and You", and "Love To Burn". He also returned to the UK Singles Chart in 1977 with "Together". Smith's recordings for the Charles Wallert album "Dreams Come True" resulted in three nationally charted singles for a total of 40 weeks.
Having achieved more musically than he had dreamed possible, O.C. allowed life to lead him in a new direction. He met Robbie Gholson, a teacher, interior designer, and administrator in Los Angeles, and the two fell in love. They married on Valentine's Day, 1976. And in 1980, his life gained a new purpose after friends invited the couple to attend a "science of the mind" service at the Wilshire Ebel Theater.
In the teachings of Dr. Joseph Murphy, O.C. heard what he had believed for so long: God as a metaphysical entity, one with all, belonging in each of us and uniting us, if we wished to see the Almighty. Though raised as a churchgoer, the Christian religion he knew never resonated with Smith because of its glorification of negative aspects, punishments, and divisions among those who believed and those who did not. For O.C. and Robbie, science of the mind reflected what they had felt in their hearts for years. And after much research into the subject, Smith knew that he wanted to spend the rest of his life spreading the word he always had known within himself.
In 1985, O.C. completed his religious studies and became the Reverend O.C. Smith. And in October 1985, Smith and Gholson officially opened the City of Angels Church of Religious Science. With O.C. using his charm and incorporating his world-famous crooning and jazz into the services, and with the positive, unifying, and comforting message of religious science, the Church grew by thousands over the years. In January 1996, the Reverend and Robbie settled the Church into a new home, on Grosvenor Boulevard in Los Angeles. With world-class facilities and space for services and classes, O.C. and Robbie knew that this was the perfect location.
O.C. led the growing Church until he passed in November 2001. Shortly after his death, Governor Jim Hodges proclaimed June 21, 2002, "O.C. Smith Day" in the state of South Carolina. Smith was posthumously elected to the Carolina Beach Music Hall of Fame in November 2002. As for the Church, it continued to thrive, enriched because of O.C.'s shared vision with his wife, now Reverend Robbie, and through his legacy of recognizing the divine and the love within us all. As O.C. likely would say, rather than mourn the absence of a flame, let us celebrate how brightly it burned.