Introduction:
Welcome to HALO, the quarterly newsletter of the City of Angels Church of Religious Science.  Here, we spread the glory of God and further our understanding of the Almighty through affirmations, enlightening articles, reviews of publications that can open hearts and minds, and profiles of the Church's most respected members.  We hope this newsletter brings you closer to God and brings comfort and peace closer to your life.
---
Editorial:
Affirmation
Be Still and Know
Self Discovery
Book Review
Bio of Clarence
---
Affirmation:
Today I awaken from my sleep and like Jesus will forever be in intimate and constant communication with God.  Life was never meant to be a struggle. I will move through each day smoothly, understanding the strength of the still quiet mind.  I will not use emotions to manipulate others or myself.  I will use my will and emotions to empower my destiny.  I am open to receive, for all that the Father has is mine.  I know that in order to get to the next space in my Life I must travel through the one that I'm in.  I am always a step beyond confusion.  My thoughts are my luggage and I will travel as light as a feather.  God is All there is.  And So It Is.
Dr. Robbie Gholson Smith
---
Be Still and Know:



Questions: should I read the paper, should I watch the news, should I be aware? If I do these things am I carefully noting the importance of the difference between the things I can control and things I can't? There are times in my life when I think I am 99.9% dreaming though I am awake. There are times when I have to remind myself "It's all Good, It's all God". The picture may not be what I would consider peace, love and harmony however; I'm led to a thought of Joel Goldsmith that "Truth, when expressed as silence is the most potent." With this is mind, I'm led to meditation where I spend a brief moment creating my own pictures, pictures of the Angel that I am. I go here because I know the importance of knowing an Angel is an elevated thought and I immediately go to peace, tranquility, harmony, joy and love. I feel like a kid in a candy store knowing I can have all or any of the above I want. Then I sit in the silence.
Dr. Robbie Gholson Smith
---
Self Discovery:
2010 – The Year of Self Discovery
Rev. Dr. Linda Logan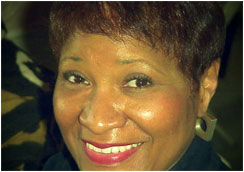 Well, here we are again at another new year, 2010, making all kinds of resolutions to change our situation or ourselves.  Every year, we hope that we will do better than the last at keeping these promises.  We write down what we plan to adjust or amend and perhaps attend a burning ceremony and try to send our old habits up in smoke.  I remember being on a City of Angels cruise, where we all wrote down what we were getting rid of on pieces of paper.  Once we ceremoniously threw the paper into the wind, the wind blew every scrap back on deck, as if to say "not so fast, it's not that easy."
What always starts with sincerely good intentions somehow breaks down, and we resume our old habits.  In some erroneous way, we believe that if we stop smoking, or weigh less, we will be happier.  I think deep down inside, we know that dropping a few pounds, or eliminating nicotine, or cutting away whatever it is we think holds us back, will not make us whole and complete in our own minds.
I believe we fixate too much on what we think are faults that we need to get rid of.  Our focus should be on honing in on what is good about us and putting our attention on revealing that we are already individualized perfection. It is natural that we have this drive for renewal, but I believe that it is really a search for the restoration of our own authenticity.
I love the story that I am told took place after the Second World War.  In the jungle near a Buddhist temple, there was a large mound that appeared to be mud and was covered with vines and debris.  It had become the favorite playground of the children from the nearby village.  One day, as they were playing and digging, they dug a little deeper than ever before and were shocked when something shiny was revealed.  Excited, they enthusiastically began to throw great handfuls of the mud and growth to the side and discovered that buried beneath it all was a solid gold Buddha.  Soon, the villagers and monks had restored the icon to its original splendor.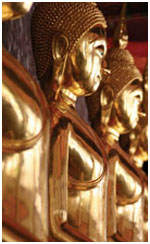 The mystery of the golden Buddha was revealed when it was remembered that during the Japanese invasion and occupation, the monks decided to hide this treasure from the marauding soldiers by covering it in mud.  As the years passed, it was forgotten.
I think that is what has happened to most of us.  Through years of trying to be what everyone else has wanted us to be, we have hidden ourselves to protect our true solid gold essence and have forgotten who we really are.  So, at the symbolic time of the arrival of a new year, we fight to reveal our perfect spirit.  Usually, we don't know where to start, so we begin with the trivial, such as wanting to lose weight, get a promotion, or anything other than looking for a way to clean off the mud to make known our true essence.
Because we have been led to believe that our perfection lies in the opinions of others, we have lost ourselves.  We have allowed others to determine what we should do and think – feeling that you must be the "ideal" wife, husband, son or daughter etc. in accordance with someone else's definition.  You have long ago stopped examining to see if the life that you are living is based on what you believe to be true, or if you are "just going along to get along."  It's no wonder then why so many overeat, drink, or use drugs; it is to disguise the feelings of self-loss.
The thing with resolutions is that we have to pay more than lip service to the idea, as it actually takes a lot more digging and introspection to discover who you really are.  Begin by asking yourself some very basic questions; what really makes me happy?  What do I like to eat?  Where do I feel the happiest?  What work or activities really make me feel fulfilled?  What are my greatest personal talents?  What do I like most about myself?
Build on these pluses instead of what you want to cut away.  Taking time to consider how wonderful you are already is a much more productive way to begin your new year. Remember that you always get more of what you focus on.  Find yourself, and all that is not really you will fall away, like the mud from the golden Buddha.
Make 2010 the year of self-discovery.  You don't have to become a new you, just become acquainted with the real you.
Happy New Year.
---
Book Review:
Three Magic Words by U.S. Andersen
Book review by Bonnie H. Dykes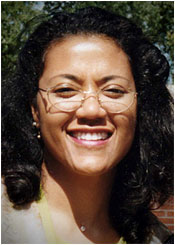 Thought provoking and spiritually stirring, U.S. Andersen's book Three Magic Words brings home to us how certain principles work in our lives (whether we are aware of it or not).  In twelve chapters that discuss relevant areas of every human's life, the author describes how the Universal Subconscious Mind operates for us.  Andersen successfully conveys how powerful each of us is and how we are all connected through ONE MIND.
Not only did this book offer powerful self-help, but it also was very inspiring and intriguing as well as intellectual.  Andersen answers questions many of us have concerning illusion, mind, form, intuition, faith, attraction, love, success, health, immortality, and the secret of self.
He effectively describes how good annihilates bad, how "adepts" (persons of great understanding) help societies, how to get in touch with our powerful inner self, how to meditate, how to treat for others, how evil is an illusion, sin is an error, and more.  His insights are very much worth reading.
The author narrates this book and speaks as a highly intellectual spiritual mystic.  The first few chapters explain basic terms in detail, and from that point, the book skyrockets to explain concepts to help us in every area of our lives.
Andersen states that there is no devil, no hell, and how negative prompters (negative thoughts) create our undesirable circumstances.  He states God is of love and did not create evil.  Evil is the illusion.  Subconscious creates whatever we believe.  God creates without knowledge of good and evil.  Do not chastise yourself, for it creates a type of personal hell.  Understand the lesson to be learned, be joyful, and move forward.
He elaborates that one obtains good by the power of our thoughts and faith.  Our thoughts act upon the subconscious mind.  The subconscious mind creates for us, guides us through being in touch with our inner self.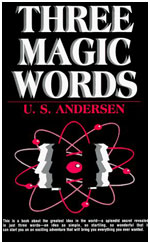 Each human is an embodiment of God.  God is in him and around him.  We are endowed with the function to create.  God made man in order to create through him.  Beyond that, man chooses his own road.
Billions of conscious minds are thinking into one Universal Subconscious Mind; therefore, you can create for your neighbor what you think into it for him.  The Universal Subconscious Mind acts on the thought in which there is the most belief.  Faith moves mountains.
We must not let the conditions which surround us govern our thinking.  We need to initiate the thoughts of the situation we desire.  We should be self-determining souls.  Andersen states love of all humanity is the ultimate true love which we all should aim for and achieve.
Andersen, who learned the psychology of winning through his days as a professional football player, carried on to become an entrepreneur by owning an advertising agency, investing in oil drilling, and other pursuits.
He studied the writings of Mary Baker Eddy, Emmanuel Swedenborg, Edgar Cayce, Daniel Dunglas Home, Jacob Boehme, William Blake, and Edward Carpenter, and added their thoughts to his own beliefs.  As he was studied in the philosophies and writings of authors from other countries, the message of truth revealed itself as universal and undeniable.
As I had been exposed to metaphysical thinking, this book was in-line with many of my beliefs.  However, Andersen presented new insights.  For example, he states that one should not suffer remorse, for remorse is a sin against one's self.  Be joyful that the bad has taught you a lesson, which is the good.
Get out of our own way (with the negative prompters and our egos) and allow the Universal Subconscious Mind to make our desires into actuality.  Do not vacillate; make a decision to side with the power of good thought, and be convinced these truths work in our lives.
---
BIO of Clarence:
O.C. Smith Black History Achievement Award for Faith and Strength
Clarence McDonald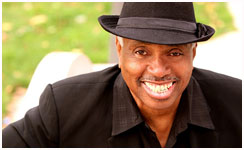 Clarence McDonald was born in Los Angeles to Curtis and Ocie McDonald.  His father, an aircraft mechanic, was his hero.  As a young boy, his greatest wish was to sing in the church choir.  But when Clarence gathered the courage to audition, the minister told him "God loves you, but if you want to get in the choir you better learn to play something, because you can't sing."  Clarence attended Hooper Elementary, where music appreciation was mandatory and anyone with interest would be taught to play an instrument.  He told his fourth grade teacher about his music interest and she turned him over to Alma Hightower, a local music instructor who trained many of the great jazz artists.  Between Ms. Hightower's lessons and his education at school, Clarence became a skilled pianist with an understanding of the fundamentals of music, and he focused on becoming a musician.
By age twelve, Clarence seized every opportunity to play the piano.  He took a weekend job playing for services at a funeral home.  However, when he saw a body raise up out of its casket as he was performing, Clarence ran out the door and all the way home, which ended that job.  At 16, he accompanied Memory Lane with the jazz artist Lorez Alexandria and Charles Lloyd in the Chico Hamilton Quintet.  After graduating from Dorsey High, Clarence enrolled at Cal State LA and majored in music.  During his sophomore year, the legendary Ray Charles invited the lad to join his band on the road.  The head of the Cal State music department allowed Clarence to mail in his assignments and take his midterms and finals while on tour, enabling the young man to finish his degree while achieving his dreams.
After graduation, Clarence was introduced to session recording with a group called the Vocals (later known as the 5th Dimensions).  But as his career was blooming, Clarence was sent to Vietnam in 1967, where he served for a year.  He vividly recalls his company being sent home on the morning the Tet Offensive began, because that same day, the area where they had been stationed was overrun and destroyed by the North Vietnamese.  War showed him how tenuous life could be, and he made a conscious decision to live his to the fullest.
Arriving home, Clarence immediately returned to his music.  He was hired as a session and recording musician, and his talents provided him the opportunity to work with some of the best musicians and singers of our time.  Over the past twenty years, he has worked with Ella Fitzgerald, Freddie Hubbard, Johnny Mathis, Gloria Lynne, Willie Hutch, Patti LaBelle, Diana Ross, Barbra Streisand, Carly Simon, Aretha Franklin, The Dells, Al Jarreau, Chaka Khan, Ashford and Simpson, Lionel Ritchie, The Pointer Sisters, Kenny Rogers, Linda Ronstadt, James Taylor, The Temptations, Bill Withers, and the great O.C. Smith, among others.
Clarence became an accomplished songwriter and recording producer.  In collaboration with Maurice White, he wrote and produced the Emotions' platinum album Rejoice, which contained the #1 pop song "The Best of My Love."   He was also a major songwriter on Deniece Williams' album This is Niecy, which also went platinum.
Clarence considers himself truly blessed because of the wonderful teachers he had so early in life.  He was extremely fortunate to be guided and taught by four special men: his father, who gave him the freedom to do what he wanted, spent time with him, and lived his life in such a way that even Clarence the boy saw the positive results; Ray Charles, who taught the college-going Clarence about all aspects of music and the love of playing; Hubie Blake, who passed his seasoned knowledge on to Clarence the young man; and the Reverend O.C. Smith, who showed Clarence the adult how to use his inner knowledge to nourish his soul.
To Clarence, the secret to his success has always been persistence.  "The thing that makes you the best is repetition.  Do something over and over and you will excel and be successful."
You can learn more about Clarence by visiting his website: www.clarencemcdonald.com